Legal firms looking to hire the best candidates for the job turn to Cubiks‌, who ‌offer ‌a‌ ‌range‌ ‌of‌ ‌different‌ ‌recruitment products‌ ‌and‌ ‌services‌. These include: ‌ability‌ ‌tests,‌ ‌personality‌ ‌tests,‌ ‌assessment‌ ‌centres,‌ ‌E-tray‌ ‌exercises,‌ ‌team‌ ‌building‌ ‌exercises‌ ‌and‌ ‌leadership‌ ‌training.‌ ‌
The‌ ‌type‌ ‌of‌ ‌Cubiks‌ ‌test‌ ‌an employer would ask you to take is totally ‌dependent‌ ‌on‌ ‌the‌ ‌level‌ ‌of‌ ‌role‌ ‌you're‌ ‌applying‌ ‌for.‌ ‌Cubiks‌ ‌offers‌ ‌two‌ ‌different‌ ‌types‌ ‌of‌ ‌tests:‌ ‌‌Cubiks‌ ‌Logiks‌ ‌and‌ ‌Cubiks‌ Reasoning‌ ‌for‌ ‌Business:‌
Cubiks‌ ‌Logiks
Logiks‌ ‌general‌ ‌intermediate‌ ‌test‌ 50‌ ‌intermediary‌ ‌numerical,‌ ‌verbal‌ ‌and‌ ‌abstract‌ ‌reasoning‌ ‌style‌ ‌questions‌ packed ‌in‌to ‌one‌ ‌assessment.‌ ‌ ‌
Logiks‌ ‌general‌ ‌advanced‌ ‌test‌ Similar‌ ‌to‌ ‌the‌ ‌intermediary‌ ‌test,‌ ‌but this test has just 30‌ ‌questions‌ ‌and‌ ‌is‌ ‌for ‌an‌ ‌advanced‌ ‌level role. ‌ ‌
Logiks‌ ‌numerical‌ ‌advanced‌ ‌test‌ An‌ ‌advanced‌ ‌numerical reasoning‌ ‌test‌ ‌comprised of ‌20‌ ‌questions.‌ ‌ ‌
Example question: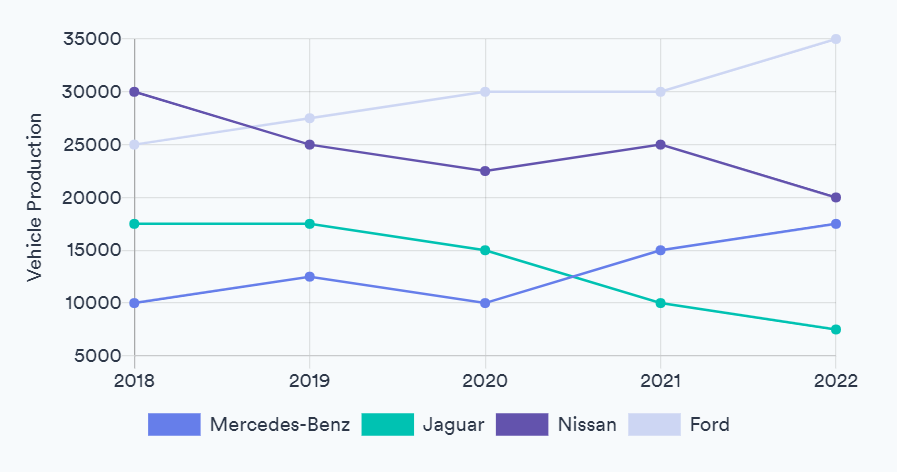 If Mercedes-Benz production decreased by 20% in 2023 how many vehicles would the company produce in that year?
A) 14,000 B) 16,000 C) 21,000 D) 28,000
Solution:
Mercedes - Benz production in 2022 = 17,500 cars 17,500 × (1 - 0.2) = A) 14,000 cars
Logiks‌ ‌verbal‌ ‌advanced‌ ‌test‌ 36‌ ‌questions‌ ‌ranging‌ ‌from‌ ‌the‌ ‌simple‌ ‌to‌ ‌the‌ ‌complex,‌ ‌this test gives an employer a clearer idea of your comprehension and communication abilities.
Logiks‌ ‌abstract‌ ‌advanced‌ ‌test‌ ‌Often ‌known‌ ‌as‌ ‌diagrammatic‌ ‌and‌ ‌inductive‌ ‌reasoning, this test presents ‌30‌ problems that vary in complexity. ‌
Cubiks‌ ‌Reasoning‌ ‌for‌ ‌Business:
Cubiks‌ ‌numerical‌ ‌test‌ The ‌level ‌of ‌difficulty ‌in this test will ‌increase the more senior the role you're applying for is and you'll‌ ‌only‌ ‌have‌ ‌around‌ ‌a‌ ‌minute‌ ‌to‌ ‌answer‌ ‌each‌ ‌question.
Cubiks‌ ‌verbal‌ ‌test‌ Very‌ ‌similar‌ ‌to‌ ‌the‌ ‌numerical‌ ‌test,‌ ‌this‌ ‌test has‌ ‌varying‌ ‌levels‌ ‌of‌ ‌difficulty‌ ‌related‌ ‌to‌ ‌the‌ ‌role‌ ‌you're‌ ‌applying‌ ‌for.‌ ‌ ‌
Cubiks‌ ‌diagrammatic‌ ‌reasoning‌ ‌test‌ The‌ ‌questions‌ ‌measure‌ ‌your‌ ‌ability‌ ‌to‌ ‌assign ‌rules‌ and‌ ‌then‌ ‌apply‌ ‌those‌ ‌rules‌ ‌to‌ ‌a‌ ‌new‌ ‌situation.‌ ‌
PAPI‌ ‌series‌ PAPI‌ ‌(personality‌ ‌and‌ ‌preference‌ ‌inventory)‌ ‌evaluates‌ ‌work‌ ‌behaviours‌ based on your response to certain questions.
<<img#1>>